So far: match.com was not fun, then EliteSingles looked at Match.com's heterosexual bias, said "hold my privilege," and set out to make the experience even more coercive, white, and hetero-normative. I did not have a good time. Then I took a couple-month break there because I got an insane flu and then met someone delightful I dated for a couple months, and I didn't want to revisit this.
Still, we
Next up I went to Chemistry.com. Chemistry, like OkCupid used to, claims to do matching based on a huge number of questions and science. It's got Dr. Helen Fisher, who I've heard on podcasts and seems great!
Chemistry claims their test is "fun, engaging, and provides an in-depth look at who you are and what you want in a relationship."
I'll spoil it for you: it is none of those things, and Chemistry offers some clear signs that you shouldn't trust them.
Anyway, let's get started? Sure match and EliteSingles were white and heteronormative, but a science-based site like this is going to have a more diverse and —
DAMMIT.
(And I am again using VPNs to test these things from cities with wildly different demographics, that's not just them guessing I'm straight and in Portland)
I'm sure Chemistry will have a more nuanced set of who can look for what, right?
Nope. You're straight or you're gay.
😐
So let's get into the meat of this. Let's kick off this personality test.
😑
I kinda gave up immediately. Was the next question going to ask me to feel the lumps on my head and pick the diagram closest to it? What could this possibly indicate about one's personality?
That critical question answered, you're introduced to the bulk of the test. It's 45 minutes of questions, often in succession asking for almost the same thing:
and
Occasionally with a curve ball like this:
or
These moments were welcome breaks from the world of bubbles. Eventually you're granted questions with different numbers of answers:
When you're through that ordeal, you get to describe yourself.
Again, I'm really hoping for some better options than we've seen in our last two adventures.
Eye color… hair… build…
Hmmm.
…also an interesting set of choices…
Again, hate this question, hate the "marriage is the most important thing" and you're either not in one, you're on your way out, out, or you were involuntarily taken out of one. In a loving long-term partnership? Nope! Doesn't matter… ughhhh.
It takes the "forced choice" approach to getting you to pick some interests. You have to have three, and only three count.
Now to upload your photo. You have two choices. Facebook, or upload.
Wait, what's that tiny small grey text there? "Skip this step."
Look, it's voluntary to sign up for a site like this. If it's that important to their success, and to the success of everyone else, that there be a photo there, make it mandatory. Maybe don't spring it on them this late in the process — which is another thing, Chemistry does not tell you it's going to take so long to sign up.
Then you get the sell on subscribing —
Okay, well, thanks for telling me. I'm curious what those features are — it's pretty vague what "enhanced search" means, and having the two communication features makes it seem like you might not be able to contact people. It's an odd choice — I'd really think they'd want to do a better job expressing what the value is here before they make you the pitch.
BUT THIS IS THE PITCH! Continue is actually sign up — now you're asked for payment. Did you want to skip? Hidden grey text again. Note that here it's not next to the continue button, but all the way over on the left. This is… intentionally deceptive.
This page is so jarringly different from the design you've seen to that point I thought for a moment that I'd clicked on an ad or gone awry somehow. Clearly this is some vestigial code owned by a troll under a bridge, or something.
However I want to focus on a huge breach of trust here.
Let's say you want that "special profile highlight offer" they're pushing. $38.94, right?
No!
No.
There is an extra $4 added for no reason. "All new upgrade orders" — is this an upgrade? It's a new account. What are they talking about? Why does that say "upgrade now?" Am I even in the right place?
What are the chances you realize you're moving forward with a different amount, given this confusing presentation? This like a hidden fee on your hotel bill where if you look up at the person at the desk they immediately remove it out of embarrassment?
You're prompted to set up some things that people can ask you, what you're looking for… I was out by this point, though. However, I'd been sent
The results of my personality test!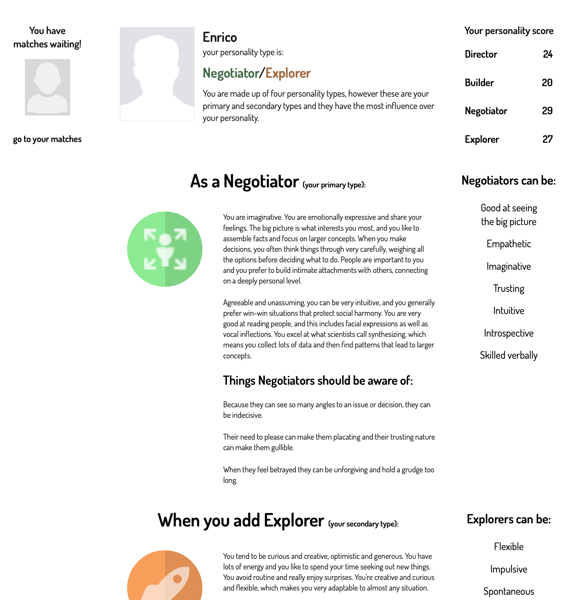 What, all those questions about whether I'm into new experiences told you whether I'm into new experiences? THAT IS AMAZING.
Truly a marvel of science. Who knows what the future might bring us?
Yeah, this very much rubbed me the wrong way. It felt like a particularly sophisticated "What Zootopia character are you?" Where all the questions are "do you like carrots?" "Are you good at multiplication?" "Do you have over 1,000 people at your family reunions?" "OMG YOU'RE JUDY HOPPS"
Still, this was — as personality tests can be — an interesting break before I had to face:
The cancellation test!
One of the best ways to learn about a company is by how they act when you cancel. Do they make it difficult? Do you have to call someone? Do they make you go out under a full moon and hold up a solved Rubik's Cube with both hands and turn three times counter-clockwise, so that you end facing South-by-South-East?
Probably an account status, right?
"Other account status changes" is cryptic…
Oh there it is, the last option.
Why is Date capitalized here? Why is the distinction between casual/serious made here? Why would you stop if you made a friend — isn't Chemistry about serious people here to meet their partners?
Why aren't you allowed to tell them you don't like their site? That's not a "Technical issue"
Anyway, so pick a reason…
We're into bad breakup territory here, where everything you say requires more explanation. So you type something in —
You have by my count gone through at least six (and probably a lot more, possibly including looking up a help article on how to remove your profile). You've just told them more about why want to remove your profile. And you get this last "wait" modal. It's just..
I will say it's nice that they clearly tell you what each of those do, but it's probably deliberately confusing if someone's going through this thinking "cancel my account" at each step, gets to the end, and — because Chemistry's been trying to divert them the whole time — sees "cancel" as the option they want, and "Remove Profile" as a different, non-deletion step. This is not helped by how many other sites — see Match for one example — very much want to keep your zombie self up and boosting their numbers, and try to dance around what profile and account mean.
The end
I'm disappointed. I thought given the association with Dr. Fisher that Chemistry might actually be more… on the up-and-up? More inclusive? By the time I got through the questions, though, I had no desire to see what the rest of the experience was like, and getting out of it only reinforced my impression that I didn't want to do business with Chemistry. I continue on.